Scenery. Version 3.3 of TrackLayer now includes the Scenery Toolkit, a complete system for drawing and adding scenery objects to your layout. Choose from hundreds of ready-made objects -- trees, houses, factories, warehouses, baseball fields -- or master the simple drawing tools and create your own shapes, backgrounds, textures, roads, bodies of water.
Annotate your layout with text labels. Draw benchwork and terrain in the background layer, plant trees in the foreground. For details and screen shots, see the Scenery Toolkit page.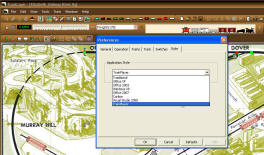 Windows styles. While developing 3.3, we upgraded to the latest framework components (from BCGSoft) and got a bonus: a nice set of themes for windows and toolbars, some with adjustable colors.
Choose from several popular MS Office styles, or enjoy our new default walnut-like TrainPlayer style shown above left.

New installer. The first thing you will notice about 3.3 is the new installer. We replaced our cumbersome old system with an attractive, lightweight one from Indigo Rose Software. Among other benefits, this means you no longer have to uninstall your current version before upgrading to a new one.

Welcome dialog. If you have been running an earlier version, then when you first start 3.3 you will see a "Welcome to 3.3" dialog to assist you in upgrading. This offers you some helpful information and a couple of handy conveniences -- read on.
Content merge. If you have been following along with upgrades, by now you have layouts and cars scattered all over your disk. The Welcome dialog offers to fix this for you, and merge all your old content so it shows up in 3.3. Accept the offer! This is a one-time operation which will make your life easier from now on. For layouts, the program does not move any files, but instead adds pointers so you can access them in your layout chooser. For cars and sounds, it does actually copy files, so you end up with your complete collections all in one place.

Upgrade dialog. While trimming our product line, we came upon the idea of offering upgrades from within the program, rather than from buttons on the website. A new dialog for this purpose is available from the Welcome dialog or the Help menu. This simplifies upgrading! Since the program knows what you have, it can offer you just the upgrades which get you from there to 3.3. Make your choice, then one click takes you right to the checkout page.
New website. You must have already noticed that as part of the 3.3 release we've put a new face on our website. We hope you find it presentable and easy to understand. Send e-mail if you have comments about it or you come across broken links.
Fixes and enhancements. Version 3.3 involved a lot of work under the hood. We moved up to the latest development environment, fixed many old bugs, and improved performance in several areas. Some simplifications, such as keeping all car and sound files in a single directory, allowed us to toss out messy blobs of code. Screws were tightened. As a result, this is the best TrainPlayer yet.