YardMaster is a new automated system of Freight Forwarding for TrainPlayer -- a script-based system which simulates waybill cycles, generates random switching tasks, and presents you with a different challenge every time you climb into the cab and report for work. It seeks to reproduce a realistic pattern of prototypical car movements through a simplified scripted alternative to the original TrainPlayer Ops system without compromising the original Ops system. By replacing the car ID labels on the car tops with the individual car destinations we have eliminated the need for constantly referring to and memorizing complicated switch lists.
YardMaster is a simulation of typical railroad freight forwarding operations where you:
can generate numerous switch lists based on realistic waybills for the customers on a specific layout
then decide how you want to "work" that overall list by using multiple different engines to perform part of the tasks required OR by using only one engine and performing the required tasks in an order of your design and choosing
upon completing a specific scenario, you then can generate another switch list or Save your progress and return to it later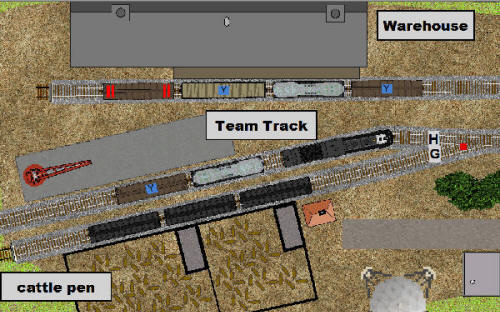 To see brief descriptions of each of the new YardMaster layouts, see the YardMaster Layout Grid.
We believe that a YardMaster-enabled layout introduces another new fun element to TrainPlayer. By using subroutines to set up, control and monitor the car movements we have been able to adapt the system to function in a fairly prototypical manner with many different layout designs, from simple shelf layouts, through room size layouts to large club size layouts.
YardMaster sets you the task but it is up to you the user to decide how best to complete it.
YardMaster began in Version 6.4, released Oct 2016. Version y2 appeared in 6.5 (Jul 17), and y3 in 6.6 (Oct 17). There are now more than 160 YardMaster layouts available for you to download and more in the pipeline. If you have a favorite layout that you would like to adapt for YardMaster we suggest you take a look at our PDF file Designer's Guide to YardMaster. If you have any problems we will be happy to offer support.
YardMaster is a natural progression based on the experience we gained from developing the Switch Games and DOG (Directed Operations Games) for the earlier versions of TrainPlayer 6. Unlike the early scripted games, a YardMaster layout can be saved at any time to enable you to reload it and continue with the same task in a later session.
---

With YardMaster, all car destinations are clearly shown on the car tops and also as track labels on the layout plan. All the user needs to do is to move the cars which are displaying their labels onto the tracks which are displaying matching labels. Progress is monitored automatically and the number of cars still to be spotted is clearly shown in a note above the main layout window.
Only the cars which need to be moved will be displaying a label, once a car is correctly spotted its label will no longer be displayed. However, unlabeled cars which are obstructing other car movements may need to be moved away temporarily to access the other cars. This will cause the label on the removed car to be switched on to remind you that to complete the switching task this car will need to be respotted back into its original position.

When you complete the current switch list the next set of tasks will be generated from the current positions of your cars just like the real railroad. Simulated waybills (or empty car orders) are added to your cars in staging and these will remain with your car until the car has completed its assigned task, no matter how many times you save and reload your layout. If you want to layover your cars in a yard to wait for a train in your next operating session you can generate your next switch list at any time and the outstanding undelivered cars will be added to the new switch list. The switch list itself is never needed for reference as the delivery information for each car is clearly shown on the top of the car due to the adoption of a waybill on car system. When the layout is saved the car details include the current destination, the return location for the empty car and the waybill for the car movements from staging to industry, or empty car movement to industry and onward waybill for the shipment.
---
The YardMaster layouts are organized in four different folders under the Layouts/YardMaster heading within your Layout Chooser:

Shelf type– smaller layouts you can complete in 30 minutes or less
Room sized – larger layouts you can complete in 60 minutes or less
Club sized – very large which will usually require more than 60 minutes to complete
Sequenced trains -- y3 layouts of all sizes: run trains in a predefined sequence to simulate a day's work on your railroad
A Shelf type layout would be a good place to learn the basic switching moves while dealing with a smaller more manageable number of cars to shunt about. club sized plans may demand some management skills as well as you may need to work through a list of 100+ cars to move or spot on a layout.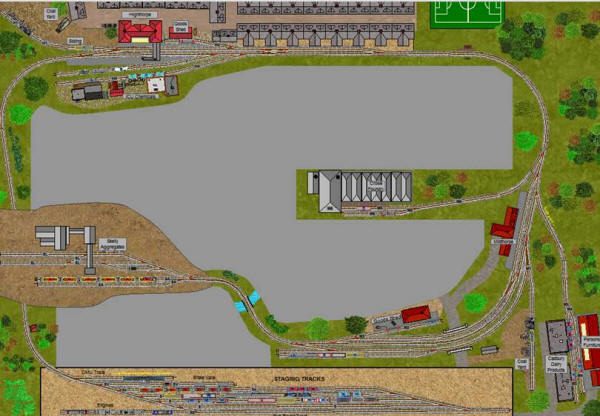 ---
If you want to develop and set up your own layout for YardMaster, you will get the full story in the excellent new PDF document by Richard Fletcher: Designer's Guide to YardMaster (click here to download as a zip instead). Or just fire up 6.4 and try any file in the Layouts/YardMaster folder -- open a layout, it gives you the layout's background story and then tells you what to do, and congratulates you when you complete it.