October 2017: the parade goes on -- here is Version 6.6!
Featuring:
ever-improving YardMaster freight forwarding, now with features for running a predefined sequence of trains
background drawing of areas surrounding the screen make for smoother scrolling as the train rolls
new, improved car properties dialog, now split in two parts
fixes in AnyRail import for curved switches and other parts
new scripting features and functions

Another free upgrade for 6.x users! See the 6.6 Features Page.
---
May 2017: And now Version 6.5!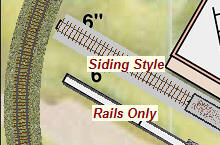 Featuring:
a new system for styling your track with custom road styles =>
more accurate scaling for the non-HO modeller
a dozen new small starter layouts
advances in YardMaster layouts, scripts, and features
new technology underneath, new licensing system
unlimited demo -- no more time limit on trying it all out
A free upgrade for 6.x users! For the full scoop, and to get your copy, see the 6.5 Features Page.
---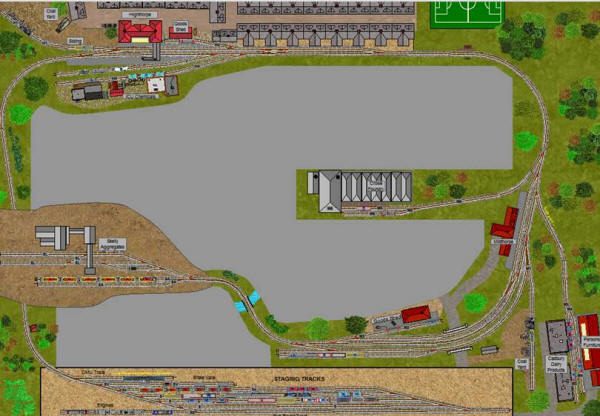 Oct 2016: Announcing Version 6.4!

Introducing the YardMaster freight forwarding system, a scripted set of over 80 original, scenic new layouts with built-in switching challenges! Full description is on the YardMaster Page.
Also in 6.4: new train generator; scripting enhancements, lots of fixes. Free upgrade! To read more and download your copy, go to the 6.4 Features Page.
At right is the Midthorpe Branch, one of the new scripted layouts. Click for larger image.
---
May 2016: Announcing Version 6.3.1!
Believe it or not, we spent two months figuring out how to know for sure which end of a car is the front! thus avoiding surprise flip-flops on coupling. Plus, fixing a nice bunch of bugs, adding a nice batch of scripting features, and delivering a great new narrow-gauge car collection with high-resolution top images.
For info, see the 6.3 Features Page.
---

---
For older What's New items, see What's No Longer New.
We accept PayPal!