---
Q. How do I get my new TrainPlayer username and key code access?
Generally, our support team tries to get you an order confirmation email which will contain your TrainPlayer user name, key code access and download instructions within two (2) hours of receiving your order from our shop site. Due to hours of operation and our need to sleep occasionally, there may be a delay in the overnight hours. We also ask that you check your Junk Mail filters/folders as sometimes our reply will end up there. If you have not received an email from us within 6-8 hours of placing your original order, please send an urgent email to support@trainplayer.com.
Q. Does my computer need to be connected to the Internet to enjoy TrainPlayer?
A. No, you will have access to all of your own layouts and car types that are on your computer. With an active Internet connection, you will be able to immediately access any of our web based content for layouts, car types, scenery and sounds via our various web choosers. You would also have a connection to the web based TrainPlayer and TrackLayer User Manual and Guide and to the Frequently Asked Questions information.
---
Q. What operating system is required?
A. TrainPlayer runs on Windows 7 and 8, and Vista, XP. The program operates with minimum memory (256MB), but more is better -- the more memory you have, the closer you can zoom in on a large layout. More memory on your video graphics card in your PC will also improve overall performance.
---
Q. Does TrainPlayer work on Windows 7 and Windows 8?
A. Yes, it runs well on both. We have not tested TrainPlayer yet for the MS Surface and Windows RT operating system
---
Q. Does TrainPlayer run on a 64 bit version machine?
A. Yes it does.
---
Q. I've just upgraded to Windows Vista Win 7 OS, where do I locate my TrainPlayer Files ?
A. Inside Vista, TrainPlayer files should be in two locations:
C:\Program Files\TrainPlayer
or
C:\Program Files\TrainPlayer <version number>
and
C:\Documents and Settings\<Your Name>\Application Data\TrainPlayer\
or
C:\Users\<Your Name>\Application Data\Roaming\TrainPlayer
By Microsoft reasoning, only the program should be in Program Files. All layouts, car types, sounds, etc should be in C:\Documents and Settings\YOUR NAME\Application Data\TrainPlayer\. Only if you want to consolidate ALL your TrainPlayer files in ONE location, would you need to move them to either one of the two locations noted above. After consolidation, you will need rebuild your trees inside the web chooser.

To find where your layouts are, inside Windows Explorer, do a "file search" as "*.rrw". This will reveal where the layout files are and typically the associated .jpg or (tpg) files as well.

Some of our users have created an additional folder in C:\Program Files\TrainPlayer and named it <My Layouts> which stores the layouts they have created plus any modified layouts. You will need to browse to the correct location "C:\Documents and Settings\YOUR NAME\Application Data\TrainPlayer\" for Layouts, Cartypes, Sounds. Set my Additional Layouts to my "My Layouts" folder. Do the same if you have an additional folder for cartypes.
---
Q. I bought the web download version of TrainPlayer, where do I find a detailed User Manual /Guide?
A. Use the Help command on the Main Menu bar in the program. Or see the top of this page for links to the manual in PDF format.
---
Q. When attempting to download car collections, I have frequently gotten the "Operation Timed Out message" . A subsequent attempt to download does not work. What's happening?
A. When you choose a car collection in the web chooser, before it can show you the images it needs to download the entire collection into the Cartypes_DL folder in your system temp directory. Then if you click Install, it copies them into your regular Cartypes location. If you are seeing this "Operation Timed Out" alert, then inside your Web Cartypes Chooser, at the top of the directory tree, do a right mouse click on Cartypes. This will bring up a submenu. From that submenu, select "Clear Download Cache"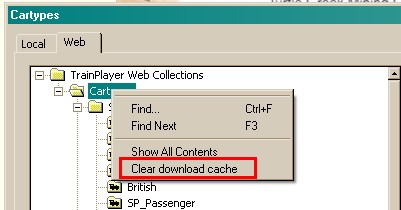 This procedure should eliminate that problem. You can also use this same technique to remove "old images" from your web Scenery chooser as well.
---

Q. I downloaded a web layout in Vista via the web chooser. Where on my hard drive is it downloaded to? When I look in program files (x86) then TrainPlayer, then layouts, I can't find it!!.
A. The first place to look is under main TrainPlayer menu File > Preferences, General tab. There is a Download Directory item shown there. Second thing to know about is how to find your Application Data directory, which is in a strange place on Vista. Use Start > Command Prompt or select RUN to bring up the command box, then type "set appdata". This gives you the directory where you will find the TrainPlayer folder containing data files. .
---
Q. Why doesn't my license code work? I enter it and get "the name/key you entered does not appear to be valid."
A. You must enter both the name and the key exactly as given to you -- spacing, capitalization, and all. The best way is to copy and paste -- as a shortcut, copy both name and key from the e-mail and paste both lines into the Name box of the Reminder dialog.
If you are entering the key by hand, round characters are zero 0, not the letter O, and you must enter all the dashes.
If you have a license key but are not prompted to enter it, use Upgrade License from the Help menu.
The Enter Key dialog may have a name in the box which differs from the one provided with your license. Be sure to use the one which came with the license you are entering.
---
Q. Why don't all my sounds show up in the chooser?
A. You may have older sounds under c:\program files\trainplayer\sounds. These are not included in the chooser tree. To fix this, navigate to the old sounds folder in Windows Explorer, and drag it into the sound chooser tree. Or, using Windows Explorer, cut and paste your old Sounds folder into whichever of these directories Vista has placed your other TrainPlayer files:
For XP - C:\Documents and Settings\<Your Name>\Application Data\TrainPlayer\
or
For Vista & Windows 7 - C:\Users\<Your Name>\Application Data\Roaming\TrainPlayer
---
Q. I just upgraded to a new version, why don't I see all the commands on the menu ? My toolbar buttons are fouled up.

A. When you upgrade without running an installer, sometimes you need to reset your menus and toolbars as follows:

Choose Tools > Customize.
On the Toolbars tab, click Reset All.On the Menus tab, click Reset. Do this for each menu in each drop-down list. Click OK to dismiss the dialog. Toolbars and menus will now be up to date.

This does not apply to most users. If you run the installer, it takes care of this reset.
---
Q. Why does the train jump the track in some places? Sometimes it doesn't move where the tracks do, or splits up at a junction, or does something else odd.
A. There are some bugs in the track work. If you encounter one, please report it. You can fix this yourself, if you have TrackLayer.
When designing your own layout and running trains over it, a good recommended practice is to check your track frequently. To set this up automatically, select Tools \ Options from the main menu bar. Then in the pop up window - Preferences , use the left mouse button to "Check Track while Drawing". Another good habit to get into while designing your layout is to Save your work frequently.
---
Q. Why doesn't the turntable stop rotating when it comes to a connecting track? Sometimes it just keeps rotating.
A. This can happen due to faulty track work. If you encounter a faulty turntable, please report it.
When designing you own layouts, if you have activated the "Check Track" feature, it will clearly identify where a mistake has occurred with a brief explanation. You may find it easier to delete the problem track and re-lay it again.
---
Q. The layout is so big, I find it hard to see the details. How do I zoom in on the action?
A. There are several ways you can zoom into a layout. The most commonly used method is to go to the Main toolbar, Select View \ Zoom then select from the choices offered.. Or, you can use the "+ / -" buttons on the main tool bar to slowly increase or decrease the image size. If you have Auto-Follow checked in the layout context menu, the zoomed-in view follows the train around.
Another way to access the Zoom features is from the Edit toolbar:

Select the large cursor button, use a right mouse click to bring up a submenu which gives you the choice of zoom to, zoom from, zoom to X %, and also zoom on drag (ZOD). If you pick ZOD, just drag a box over the area you want to focus on. The smaller the box, the greater the zoom will be. Unfortunately, the ZOD features is currently only available on Windows systems.

Finally you can try this - zoom in, then use Window > New Window to create a second window which you can zoom out to see the whole layout. Tile these side-by-side and you get the overview and the detail at the same time. But note: only the main (first) window can do Auto-Follow of the train One thing to remember about the Zoom feature is that it will use computer resources to redraw the image and depending upon the age of your computer and available memory you may experience either a system "freezes" or "lack of resources" errors
---

Q.
Do you have permission to use Linn Westcott's track plans?
A. Yes. We have a signed exclusive agreement for the use of Kalmbach artwork.
Likewise for our new collections now appearing on our layout web chooser, we have permission from the original designers or copyright holders to allow our users to enjoy these layouts.
---
Q. Why can't I get these cars to uncouple? The tool is dimmed for no apparent reason.
A. There are reasons you might not be able to uncouple, having to do with physics and common sense. You can't uncouple if the train is backing up, unless you're uncoupling a car which sits ahead of the engine, because if you did, the next movement of the train would cause it to re-couple.
Also, to couple you must not be going too fast. The default coupling speed is 15 MPH. You can change this in the Preferences dialog.
Also, you are prevented from uncoupling when cars sit atop a junction point (usually at the frog of a switch). If the uncouple button is dim, try moving a little forward or backward.
---

Q. How can I create my own car collection?
A. If you want to create your own car collection of your favorite road, review the Car Collection chapter in the User Manual. Here are a couple of pointers:

1) the side GIFs work best ,inside the program, when each one is paired up with its own accompanying car top. The majority of the car collections on your web chooser are set up this way. Make sure that the name for each car top exactly matches that of the accompanying GIF file. For example CNW GP9R.gif would have a matching file called CNW GP9R_t.bmp. the "_t" means it is a top file and the BMP means Bit Mapped. All car tops are BMP files. Some side car images are starting to appear in BMP format also since it allows you a bit more color detail potential.

2) the best way of finding the top BMP files for your own collection is to find a similar one in any of the car collections that closely matches your side GIF. Once you've renamed the GIF (i.e. myroad-boxcar.gif), you can use it "as is" or you can use MS Paint to re-color it to suit your model. To find MS Paint, when you are viewing your individual GIF files, right mouse click on the image and in the next menu, select "Open with" - from the next drop down menu - select MS Paint

3) Each new car type folder that you create will need a corresponding XML file to run in the program. This XML file is created when you import your car collection into the program. It appears under your general Cartypes folder inside TrainPlayer but it is not placed inside the actual car folder itself. For example the CNW.XML file would appear under Cartypes as an individual file and a folder called CNW would also appear under the general Cartypes folder
4) with a TrackLayer - Builder license, you will be able to download the "Paint Your Own" cars and paint the sides and tops in your choice of colors. The web link to "Paint -Your-Own Cars" and the tutorial is located in the top right hand margin of this page.
---
Q. Why do I get this message? "Trainplayer.exe - Unable to Locate DLL?. The dynamic link library gdiplus.dll could not be found in the specified path."

A. Gdiplus.dll is a library of graphics enhancements which is included with Windows XP but not with Win98, NT, or 2000. If you don't have it, it means you haven't yet installed a program which needs it. Please download it as follows:

Click here to download gdiplus.dll (zipped). Unzip the file into your Windows\System32 directory..Rerun the TrainPlayer installer.

An alternative method of getting this "dll" is directly from Microsoft. Click here to download their version.
---
Q. Is there a Switching / Operating plan for TrainPlayer?
A. TrainPlayer Version 4.0 OPS is the answer to this. The OPS module is part of both TrainPlayer Operator and TrackLayer Builder.
---
Q. Is there an easy way to simulate real train operations ?

A. The new Ops module available since TrainPlayer 4.0 does provide for simulated freight/goods operations. If you want to add passenger service, at this time, you can accomplish that function via the Schedule feature in the program and/or use Scripting. TrainPlayer's scripting feature allows you to program all the moves your passenger or freight train will make. What some of our users do is automate all of their passenger trains on the layout with Scripts while they focus on performing the switching moves on a local peddler freight. This makes switching more challenging and fun when you need to clear the line for The Limited!

For details on Scripting, please refer to your TrainPlayer manual / User Guide under Help\Contents.

---

Q. How do I link together several layouts to make one large Empire?

A. Please refer to the TrainPlayer User Manual for detailed instructions on how to set up "Links". Here are some key points to remember:
Links can ONLY be made from one "Stub ended siding" to another
You can have as many links between any two or more layouts as you want so long as they are stub to stub type connection
A stub ended siding will support only ONE link and cannot be re-used for any others.
The Link ID must be the same for both sides of the linked connection
The best recommended practice is to have both of the layouts to be linked, open at the same time. Designate your link point(s), save each file, then test each link by running a train through the link(s) in each direction
If you encounter problems, first go to the main tool bar, Tools, select Check Track. The pop up dialog box will often indicate where the problem is located. If your problem persists, send us a note along with your *.RRW file and we will try to assist you
We have had intermittent reports from some users who had some problems when they had used up all 26 alpha characters and then started adding in new variations AA, AB, AC or A1, A2, A3 etc but no one has commented on the matter recently NOR has anyone provided enough details for us to determine what the root cause of their problem to be
---
Q. I designed the track layout before having a background. Is there a way to determine what size the JPG needs to be for my existing layout?
A. The JPG doesn't need to be any particular size, but must be the right shape. To determine what shape, look in the rrw file for the layout dimensions, which are like: xdim="7194" ydim="3568". Create your jpg to have the same proportions -- for example it could be 719 x 357
---
Q. I designed the track layout before having a background. Is there a way to determine what size the JPG needs to be for my existing layout?
A. The JPG doesn't need to be any particular size, but must be the right shape. To determine what shape, look in the rrw file for the layout dimensions, which are stated like: xdim="7194" ydim="3568". Create your jpg to have the same proportions -- for example it could be 719 x 357pixels.
---

Q. When I rewind a Script, the file reverts back to the original rolling stock. Why is that happening?

A. That's because it took a snapshot of the layout the first time you started running a script, which must have been before you changed the cars, so when it rewinds it goes back to that. The thing to do is get everything set up at the starting positions and do "Erase starting position" before starting the script, so it will take another snapshot. If you didn't save a copy of the layout with all the good cars on it, you may have to add them again.

---

Q. Does TrainPlayer let me import any layout designs from other design programs like WinRail?

A. Users of AnyRail, Right Track and WinRail and RailModeller can convert layouts for use in TrainPlayer. The converter handles most standard track elements: turnouts, curved turnouts, wyes, turntables, crossings, bridges, rerailers, slip switches*. This conversion requires a TrackLayer license. Consult the TrackLayer manual for info on importing from CAD formats.

---
Q. When should I uninstall an earlier version?
A. You do NOT need to uninstall your current version before running a more recent installer. It deposits program files in a new location, and does not overwrite your existing ones, so you can continue running the two versions side by side. Once you are satisfied with the behavior of the newer one, then you should consider uninstalling the older one.
---
Q. How do I find out what license I'm currently using and what upgrades are available to me?
A. Go to your main menu bar and select Help > Purchase Upgrade. TrainPlayer will identify for you what upgrades are available and their cost. This Help page will also link you to our shop site, should you wish to purchase that upgrade.
---
Q. How do I share my finished layout with other users at TrainPlayer?
A. We welcome any submissions of your work either from hand drawn layouts or using the Scenery Toolkit. You can access the "Publish" feature from the File \ Publish menu. In the next pop out menu, TrainPlayer identifies what cars and resources are needed to run your layout and there is a handy descriptive box for you to insert your name and to provide the "story" of your layout. When you have provided this information, press Okay and TrainPlayer prompts you for a location to Save your layout. A handy way to quickly locate these "shared" files is to create a new folder on your Desktop and call it "TP Share". When prompted to Save your "published" version, just navigate to your computer desktop and click on your TP Share folder. Then you send the files to us at support@trainplayer.com and we will take care of the rest.
You can also share your work with the Yahoo TrainPlayer group on their site [http://groups.yahoo.com/group/TrainPlayer ] by uploading your files using their Files tools. Click on Files in the left column. At the next screen, select "create new folder" from the mid screen tool bar. Name your Folder. Then Open your new folder and select "Add File". Be sure to provide the background image, if there is one, the RRW file and the thumbnail [name_t.jpg] file for your layout.
---
Q- I am having issues when downloading TrainPlayer when using my Download Manager – GetRight. What do I need to do to successfully download your program?
A. The download manager in this case is Getright. It normally intrudes a stub into each browser it finds, sometimes utilizing a program called FlashGot. Usually, this is a good thing, because it keeps a download manager in the loop no matter what browser you're using. However, in this case it's the wrong thing to do and was hard to disable.
To get it to stop trying to download the file, it was necessary to open the configuration options, click Monitor Browsers' and uncheck the 'Replace the "Save as" window...' option. Then click the General / Starting & Stopping menu choice and uncheck 'Start GetRight when Windows starts'. Now you need to reboot. Simply unchecking these boxes is not enough to unload what has been loaded on startup!
To get things back to normal, simply reverse this process, except that you won't need to reboot- start GetRight from your Startup menu, open Configuration, and go from there.
NOTE: If you use the Firefox download manager or Download Accelerator Plus to download the TrainPlayer installer client, you may also experience problems. The TrainPlayer installer is designed to work with recent versions of Microsoft's Internet Explorer. Our recommendation is to first Save the file to your hard drive and then launch the installer from there.
---
Q This is a problem that I have had with multi-section layouts before. Suddenly the rolling materiel gets stuck in cyberspace, somewhere between the two layouts. What's happening and how do I resolve it?
A. Cars getting stuck in space is a consequence of the way "linked layouts" work. When the rolling stock are jumping across layouts, there is a copy of the train on both layouts, sitting hidden at the jump-off or jump-on spot until the train is ready to become visible. If something interrupts this process, those cars can still be sitting there, ready to cause problems in the future.
Also there is a more obvious problem. After you jump a train from layout A to layout B, if you were to save either layout to a file, it would save the train where it then sits. So let's say you start in A, jump to B, then save the file and quit the program. Next time you bring up A and jump it to B, you'll find your saved copy of the train on B.
The best advice is to get rid of any phantom cars and trains you find or come across. Since you can not see them, this is not easy, but check the Train menu. The last resort is to edit the xml or RRW file to remove them by force. If this is the case, then drop us a line at support@trainplayer.com
---
Q. I am unable to download a large car collection completely from the Cartype Web Chooser. What is causing this problem?
A. What can happen sometimes is that either your Windows Firewall or your Virus Protection software have security settings that are too high OR where you have not identified the TrainPlayer web site as "friendly". This will result in either a blocked download or a very slow download from our web site. You may either need to change the setting for your Firewall and/or Virus Protection software OR temporarily close them while you're downloading layouts, scenery or car collections from our site. Consult your Windows and virus protection software for additional details and instructions.
---
Q. Can I use my PayPal account to purchase your products?

A. As of July 1st, 2012 we now support PayPal on our web store along with Visa and Master Card. Our web site is optimized to work with Microsoft's latest version of Internet Explorer browser. You may experience some issues with PayPal and Firefox version 17.01 and perhaps other browsers.. In that case, we ask that you use Interent Explorer to complete your purchase transaction.

If you prefer other options, you can order by giving your credit card number over the phone [call (707) 320-4246

]

, or by sending a check in the mail to TrainPlayer Software

,

4200 Arcadian Drive

, Castro Valley, CA 94546.
---
Q. I am using AnyRail for track laying and design but when I import my file to TrainPlayer, the resolution looks fuzzy. How can I improve the look of my plan?
A. Both TrainPLayer and AnyRail work hard to keep each other aware of various updates to their respective programs to ensure easy export/import of files.
In this case, to ensure a good quality import file for TrainPlayer, you need to make sure that inside AnyRail, you go to View Scale and choose a size which is suitable to display your layout properly. For small layouts in the range of 4 feet X 8 feet, that scale might be set at 1:5. For larger, room sized or club type layouts .you may want to try a scale of 1:8 or 1:10. Next Save your file in AnyRail. Then Export the file to TrainPlayer xml format. Inside TrainPlayer, go to File\Import\AnyRail and our program will convert that file into TrainPlayer formats.
If you're not satisfied with the resolution, you can always go back into AnyRail and change your View Scale settings accordingly. With the enhanced Zoom capabilities added recently to TrainPlayer, our program can handle image sizes up to about 7 megabits without too much trouble. Above that size, you may experience PC performance issues depending upon your PC hardware configuration.
---
I am using Atlas RTS software and when I try your conversion program, I get this message "Program cannot locate RAL_XMLLIB.dll"? What do I do now?
A. You can either ask for it at WinRail or you can get it from our site here: http://www.trainplayer.com/Goods/RAL_XMLLib.zip