Creating a modular layout is easy. To do it requires TrackLayer and a few steps.
Step 1. Choose some modules. Version 5.0 comes with folders of modules built to NTrak and HO standards -- bare-bones templates you can use to create your own, special corner and junction modules, and a generous collection of scenic modular track plans. You can find these in the Layout Chooser, as shown here. For samples of what's available, see the gallery below.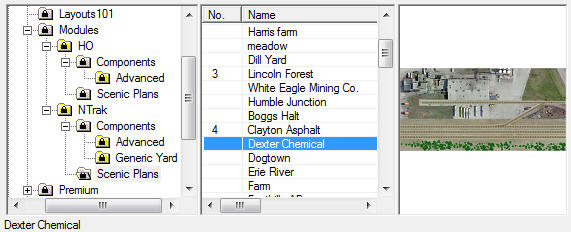 Step 2. Assemble. Drag modules into the Module Manager workspace. They snap together automatically, like little magnetic dominoes. Lay them out in chains or loops, add junctions to make complex patterns.
Modules can be rearranged by drag and drop, or by moving rows up and down in a list. The Module Manager keeps everything aligned and snapped together whenever you make changes. The window can be resized or zoomed; colors and display attributes are fully customizable.
Step 3. Click OK. Once you have an assembly you like, click once to convert it into a full layout -- all modules with track and scenery, automatically positioned and connected, ready to run. Modules are labelled and outlined so you can see what's where.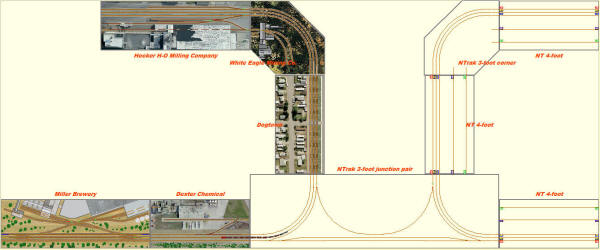 click picture for larger image
Step 4. Test drive. Add a train, crank up the speed, and you can run all the way around. Add multiple trains and work out operations, meets, schedules. Cruise from one module to the next and make sure the scenery changes in reasonable ways.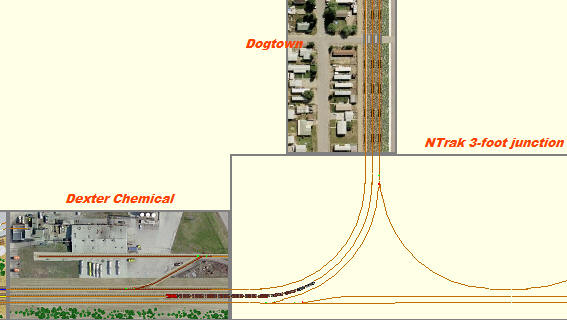 Step 5. Fiddle. Don't like the shape of the layout? Bring the Module Manager back up and shuffle the modules around. Try different arrangements. When you find the optimum plan, zip it up and send it to the club members so they can practice operating.
Sample Modules. The installer delivers a small set of basic components. Many more like these are available on the web:
There's more. Also in Version 5: improved performance; zip files for multi-part layouts; control-drag to duplicate objects; enhanced layout properties dialog; better location of components in multi-part layouts; plenty of bug fixes.